What to Wear to a Winter Wedding: A Helpful Guide for Men
Many people choose to have their weddings when it's warm, like in the summer or spring. However, a couple may have a winter wedding if their dream venue is only available at that time or if their family can travel during the winter. Some couples love the idea of a winter wedding because it's such a festive time of year, and it's wonderful to bring that joy and excitement into their big day.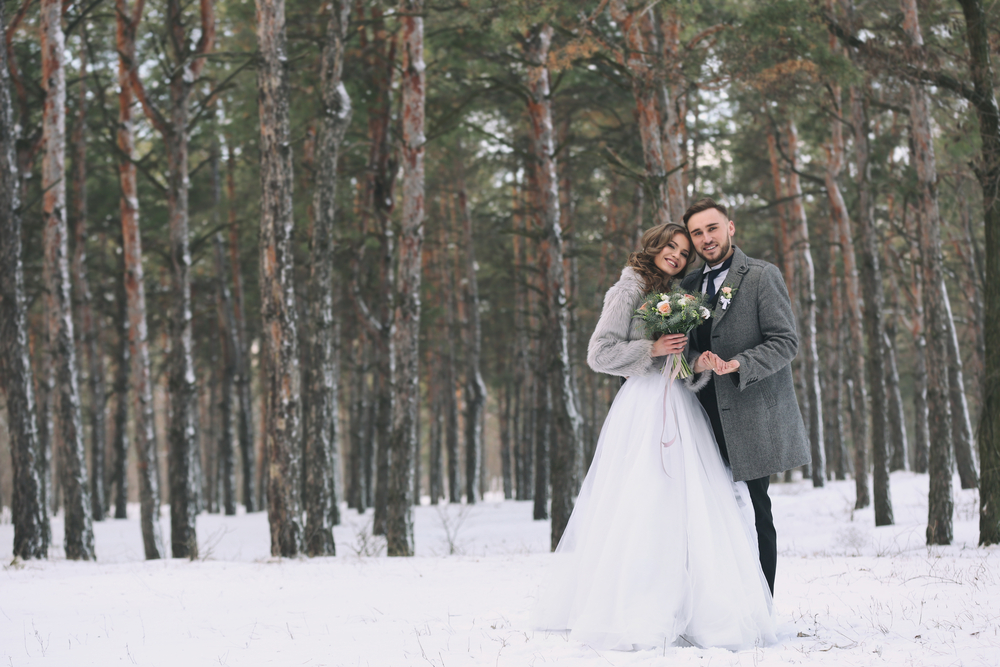 Dressing for a winter wedding may seem difficult, but it's not all that complicated. When picking out a proper winter wedding outfit, there are some things you should consider:
The weather: Since it's winter and you'll be trying to beat the cold, cotton or linen aren't the best choices for your suit. Instead, go for classic men's suit made from materials like flannel, wool or tweed. A fully lined suit can also insulate your body heat and give the suit a better fit.
The dress code: Some invitations come with a dress code for guests to follow. For example, if indicated, the event could be a black tie or black tie optional, which would require a different outfit than a dress code that specifies a semi-formal or casual dress code.
The location: City weddings typically require a more formal and polished look. A color palette of black, navy and maroon would work brilliantly, even with checks or pinstripes if you're feeling bold. For country weddings, on the other hand, it would be more appropriate to draw inspiration from earthy colors, such as green and brown. Fabrics like tweed and wool also come in charcoal hues that would fit this aesthetic.
Now that we've shared some considerations, let's dive into some winter wedding outfit ideas:
1. The Classic Black Tuxedo
A classic tuxedo is a very specific type of suit for when you're required to wear black-tie. Black is the standard and preferred choice, but navy or dark gray may be acceptable.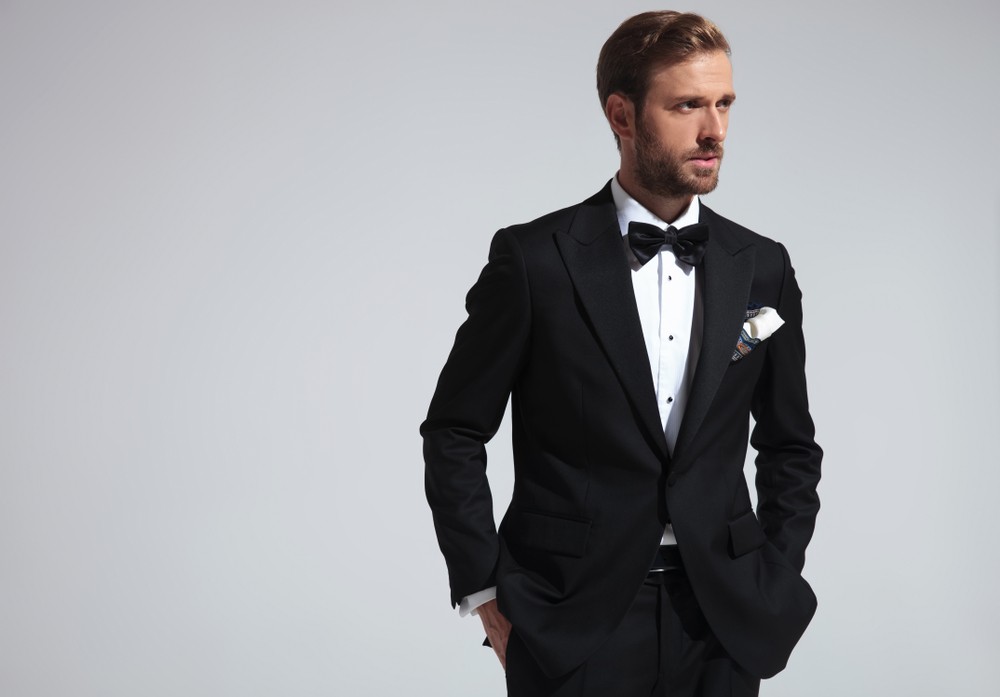 Keep in mind that you should wear a dinner jacket and not a suit jacket. While a double-breasted jacket has become more acceptable, it is not part of a traditional black-tie dress code. Depending on which jacket you choose, you may need a cummerbund or vest. In this case, the jacket shouldn't be patterned (more on patterned suits below.) Always wear tuxedo pants that match the jacket, and pair those with a white shirt and black, high-shine Oxford shoes.

A tie is a must, and either a thin or business tie is inappropriate. The tie should match your suit, and while some tasteful, conservative color options are acceptable, never wear a white tie as this is only appropriate for a white-tie event. Make sure to wear socks that match your tux as well.

2. The Killer Formal Suit
Every man has a suit that makes him feel like a titan of industry, and this is the suit you'll want to pull out for a formal winter wedding. A navy wool suit is a great choice as the wool will keep you warm. Navy is a formal color, but you can still infuse some color with a light-gray shirt and a subtly patterned dark tie. Dark brown men's dress shoes will complement the look.
3. The Semi-Formal Plaid Suit
A well-tailored plaid suit is especially appropriate for winter weddings because it's usually made out of wool, so it will be warm. If the dress code is semi-formal or cocktail attire, you can let your personality shine a bit more. A smart gray-and-black plaid suit is perfect for such an occasion. You can wear either a black or gray shirt. A tie is preferred for semi-formal events, but a tie isn't required for cocktail party attire.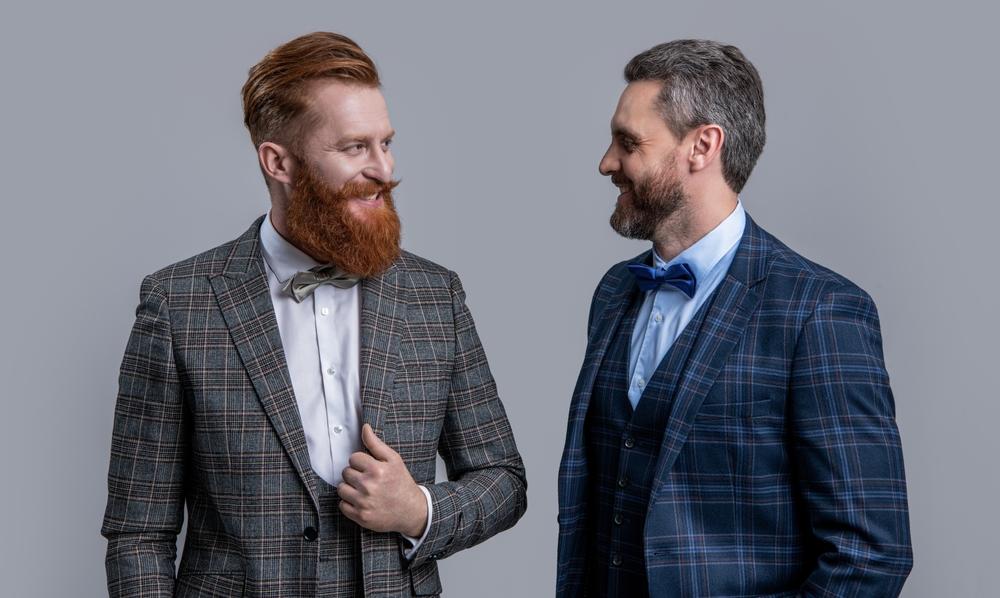 You'll want to wear black shoes, but they don't have to be the classic black Oxfords. Feel free to bust out those Chelsea or Derby boots you have wanted to wear. You are also free to have a little fun with your pocket square, so go for a pop of color.

4. The Casual Sweater Outfit
Unfortunately, jeans and sneakers are still out of the question for even casual winter weddings. Keep it stylish with slacks, such as casual chinos, a turtleneck or a crew-neck sweater with an informal blazer. If you run hot, it's perfectly acceptable to wear a fun dress shirt with your blazer, and you could even go for a patterned design to give your look more character.

Chukka or desert boots are stylish and practical choices for a relaxed winter wedding. Since it's bound to get colder at night, you can add a men's scarf and glove set to tie the outfit together.

Don't Forget Your Coat
For a black tie or formal wedding, you'll need an overcoat if it's cold where the wedding is. These mostly come in black, are knee- or mid-calf-length, and are made of wool. If you're attending a semi-formal or casual wedding, the coat can be shorter and can be brown, navy or gray, but it should still be a smart wool coat that would be dressy enough to wear to a business dinner, such as a dapper pea coat.

Shopping for a Winter Wedding Wonderland
Getting the look you need for a winter wedding is easy. You probably have all you need in your closet already, it's just a matter of mixing and matching them in a way that may be new to you. Keep these outfit ideas in mind before your next winter wedding!