7 Fall Fashion Staples Every Guy Needs in His Closet
To create a great-looking fall wardrobe, all you need are some versatile pieces that you can easily mix and match. These clothing staples help to build the foundation of your closet to deliver classic, personal style. Autumn weather is all about layers, cozy fabrics, and adding handsome touches like a men's two–tone Rolex to complete an outfit.
1. Work Pants
In some offices, jeans are allowed, but most men need work pants that meet their employers' dress codes. These might include a pair of chinos or khakis, which look excellent with casual shirts or more formal attire. Corduroy pants are another favorite that signifies fall fashion. They're comfortable and often feature a relaxed design.
You also have the option of wearing flannel trousers as your work pants, and this is a wonderful choice. Flannel pants in the classic neutral shade of gray look sharp with formal or casual pieces. Gray also goes beautifully with any color, so it's easy to pair with favorites from your closet.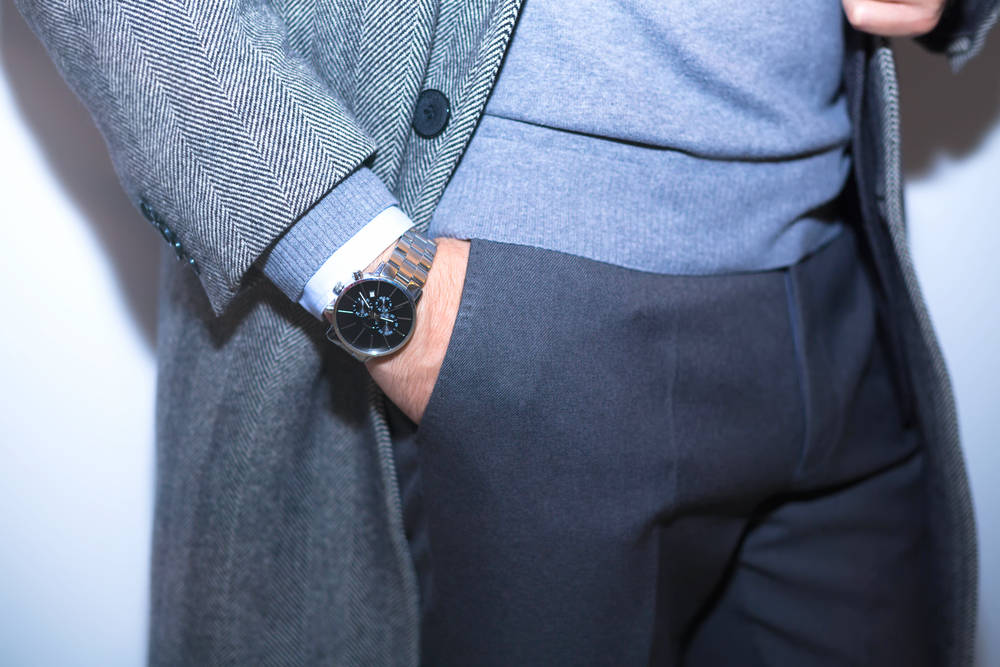 Source: Claudia K/Shutterstock.com
2. Classic Accessories
The right garments can give you fabulous style, but it's the accessories that often give an outfit that extra oomph that gets you noticed. A silk tie never goes out of style, and you can select from earthy autumn shades such as rust, gold, olive, terracotta, and dark mustard. You can also play with the texture or pattern of a tie or choose a tie with an autumnal motif. Ties can refine an outfit, and the same is true of a proper scarf. When the temperatures dip, a woolen scarf in plaid is an accessory that never goes out of fashion.
Jewelry also plays a key role in enhancing a fall wardrobe. You can never go wrong with a Rolex watch men's option. The brand is worldwide, and the luxury and craftsmanship are impressive. To elevate your style, consider the popular Rolex Deep Sea–Dweller.
You should always have a pair or two of quality sunglasses. Every man needs protection from the UV rays all year long. Aviator lenses offer universal style and look good on everyone. Then, there are the classic Wayfarers that are distinguished with a masculine edge.
3. Cozy Knitwear
The fall season often calls for warm layers but not those bulky garments reserved for wintertime. Cozy knitwear not only serves a function but also allows you to look fashionable. A cardigan, for instance, is one of those autumn classics that can become one of your go-to pieces. You can button it up or leave it open and wear it with a T-shirt underneath. You could also dress up a cardigan with a dress shirt and a tie. A cozy cardigan could also be worn buttoned up under a suit jacket.
A sweater vest is another fall staple that adds that extra toasty layer, and it, too, can be dressed up to elevate your look. Accessorize your vest with an Oxford shirt and a bowtie. A classic V-neck or crewneck sweater is another example of cozy knitwear for fall, and you can find these timeless pieces in fuzzy fabrics, light to medium weights, and more.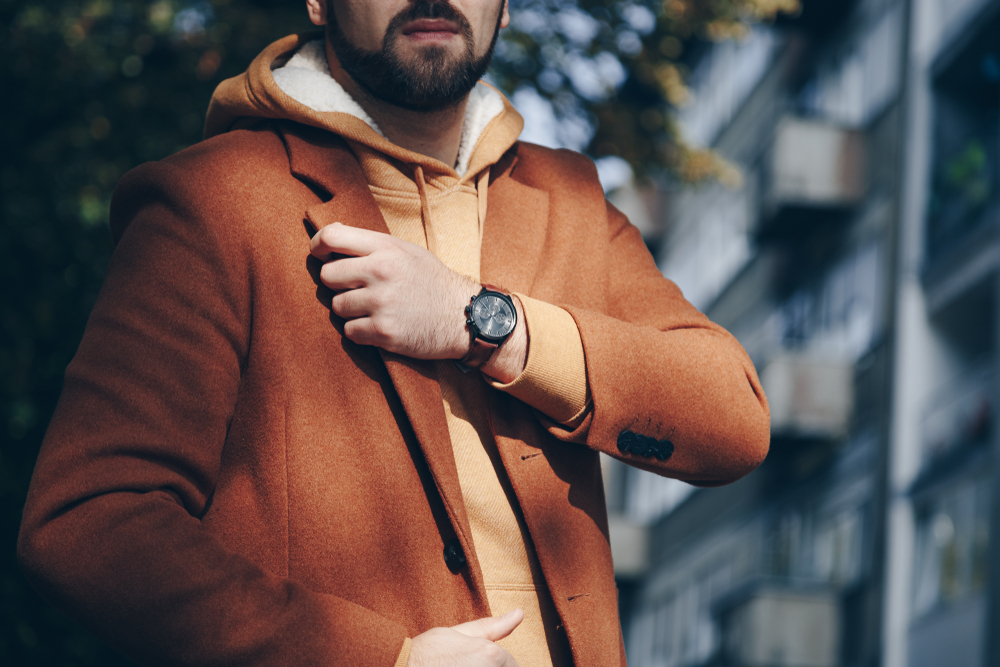 Source: MS_studio/Shutterstock.com
4. Long Outerwear
Think trench coat or any kind of knee-grazing outerwear for fall. This piece alone offers great protection and warmth from dipping temperatures, wind, or rain. Not only that, but long outerwear can add elegance and sophistication to even the most casual outfits. The trench coat has been around for decades and will never go out of style. In fact, this garment enjoys cult-like status.
A trench coat looks as amazing over a tuxedo as it would over a hoodie and sweats. This garment comes in a variety of styles, from belted to zippered to lined, and either double-breasted or single-breasted.
5. Textured Tailoring
Here's another aspect of your fall closet to put together. Texture-tailored pieces can bring interest and depth to your style. The key here is soft-tailored garments such as a corduroy or wool blazer with an unstructured design. Wool pants and knitted ties are other examples of textured tailoring. It's cozy, timeless, and features a relaxed fit.
Also, mohair's a long, smooth fiber that adds a fuzzy appeal to textures for autumn clothing. Mohair enhances soft tailoring in sweaters, coats, and hats.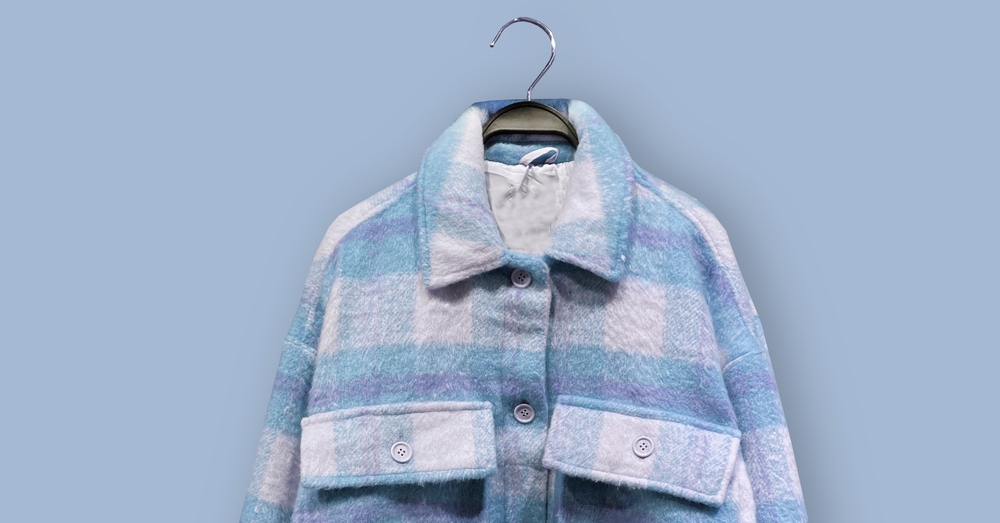 Source: Anastasiia Horova/Shutterstock.com
6. Heavy Flannel
What would autumn be like without some favorite flannel garments? Flannel shirts with some weight to them are terrific pieces to own. These are the ideal outdoor layers that boast a classic, casual appearance. Flannel shirts come in tons of patterns and colors and can be worn in multiple ways. These button-down shirts look fab with a hoodie and jeans or with a simple white T-shirt.
Heavy flannel can take you from fall into winter and serve as a light jacket or a warm, oversized shirt. Flannel feels as soft as a blanket, so always keep a couple of flannel pieces around when the air turns crisp.
7. Work Boots
You want footwear that can handle the cold temps, rain and/or snow, and the terrain wherever your travels take you. You may favor your loafers, wingtips, or sneakers, but you also need work boots when the weather works against you. That means footwear constructed of thick uppers and durable materials with powerful commando soles.
Work boots in suede or leather can handle the elements and function well in them. They also look good with your flannels, corduroys, knits, trench coats, and more.
It's All About Assembling Some Autumn Basics
You don't need hundreds of garments to nail that polished fall vibe. Start with the staples as outlined above, and go from there. There's a reason that classic pieces make a better wardrobe. They're timeless, effortless, and flattering to every physique.