12 Must-Have Phone Accessories for Fashionistas
Like it or not, we carry our phones in our hands all the time, so they're fashion accessories by default anyway. If you're like us, and you like to be a little more deliberate about your aesthetic, then you'll appreciate this list of 12 must-have phone accessories that every fashionista should own:
Phone Case
The most obvious and most important phone accessory is an eye-catching yet protective case. Not only is a cute phone case the best way to turn your tech into a fashion accessory, but it's also the single best investment that you can make to protect your phone from potential damage. After all, would you rather drop a bunch of cash on a phone replacement, or use the money to add to your wardrobe? We thought so.
Screen Protector
Having a cracked screen is decidedly not aesthetic, which is why a screen protector is a must-have accessory for any fashionista (or anyone, really). If you're especially prone to dropping your phone, you might want to pick up a lens protector as well. Just make sure to apply them both carefully so you don't get air bubbles or dirt trapped underneath the surface.
Power Adapter and Cord
You know what also isn't aesthetic? A dead phone battery. We recommend leaving several high-quality power adapters and charging cords in strategic places, such as your home, your office and your bag so you never have to worry about tracking one down. For extra fashion points, match the colors to your phone case so that everything is color coordinated.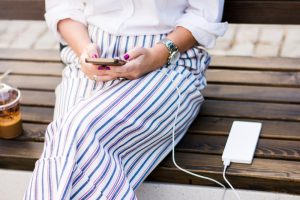 Power Bank
Some days you're too busy to sit near a power outlet waiting for your phone to charge, which is why we recommend having at least one portable power brick in your bag. It's the easiest way to ensure that your phone will never run out of juice. Just like with the power adapter, color coordinate the power bank with your phone case to make a fashion statement even as you charge your phone.
Vehicle Mount and Adapter
If you own a car and drive a lot, then you need a mount for your phone. There are many different styles to choose from, including ones that rest in the cup holder, clip into the air vents and attach to the windshield via suction cup. You can pick whichever one works best for your car. We also recommend purchasing a cigarette port adapter and a charging cord so that you can charge your phone in the car as you drive.
Phone Pouch
Sometimes, you don't want to carry a full purse, but you also don't want to put your phone in your pockets (or you don't even have pockets!). These scenarios cause for a streamlined phone pouch, which is just big enough to hold your phone and a few cards. Match it to your outfit to take your fashion statement to the next level.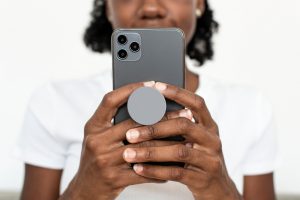 Phone Grip
If you are constantly fumbling with your phone, you might want to invest in a phone grip of some kind. They come in a couple of different styles, such as the infamous Pop Socket as well as a ring shape that you can hook your fingers through. Match the grip to your case for a single aesthetic that is sure to get you compliments.
Phone Holder
If you tend to watch videos or read a lot on your phone, then you know that holding your phone up in your hands can get old fast — not to mention tire your arms out. You might find it worthwhile to get a folding stand and/or a charging station so that you can rest your phone on it and go hands-free. These stands come in different colors, so you can easily find one that matches your home aesthetic. (By the way, they also make slightly bigger stands that are perfect for heavier tablets and will save your arms and neck some strain!)
Bluetooth Remote
If you love taking photos of your outfit of the day — and what fashionista doesn't? — we highly recommend getting yourself a Bluetooth remote if you don't have one already. These remotes sync with your phone and allow you to set up the camera and take pictures from a distance, perfect for those days when a friend can't tag along to play photographer.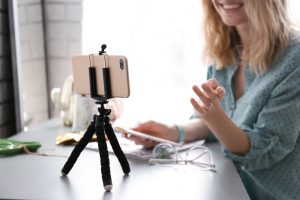 Portable Tripod
Speaking of selfies, a portable tripod will make it so much easier to take photos of both yourself and the environment around you. We love the shorter tripods with bendy legs, which are easy to wrap around something when you want to go hands-free. The smaller legs also make it easier to throw in your bag or suitcase whenever you're out and about.
Wireless Earbuds
AirPods are already an accessory unto themselves, and you can take things a step further by getting an AirPods case that matches your phone (and your outfit!). Make sure the case has a secure clip so you can attach it to your bag and show off your fashionable case.
Smartwatch Accessories
Pretty much all smartwatches have to sync with a phone to work, so it just makes sense to coordinate their aesthetics. We love to see a matching Apple Watch band and phone case, and you can also get a cute bumper case for your watch if you want even more protection. If you wear your watch every day, nothing is stopping you from switching out your watch band to match your outfit of the day!
Did we miss any phone accessories that you consider essential? Got more tips for turning your phone into a must-have fashion item? Drop your knowledge in the comments below!