A Guide to the 10 Best Music Festival Outfits for Men
Put on your sunscreen and grab your shorts. It's music festival season, which means that when you're standing outside all day at the concert, you'll need to figure out what to wear. Whether a laid-back beach outfit is more your style or you prefer a look that transitions from the festival to the nightclub, we have all the options for you. That's why we've put together this guide to the ten best musical festival outfits for men.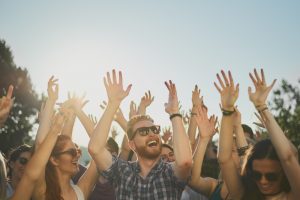 1. Everyday Swimwear — You don't have to settle for just wearing your swimwear at the beach or the pool. Wear a beach outfit for men at the musical festival. For the everyday swimwear look, you can wear your trunks as shorts and wear a linen shirt as a top to stay cool all day!
2. Get Messy — You're going to get messy at the festival. You'll be sweating. You'll be drinking. Other people's sweat and drinks will probably get all over you. Wearing a beach outfit made of materials that are made to get messy and dirty can help alleviate the stress of getting your clothes soiled at the festival. Put away the button-downs and dress shoes and go for that everyday swimwear look instead.
3. Comfort First — You want to look great. You'll be taking photos and videos at the concert. You don't want to look like a slob in the group photo. Put comfort first. You're going to be standing outside for hours on end in the sun. You'll want to wear lightweight clothes that don't weigh you down. Wear comfortable shoes and accessories.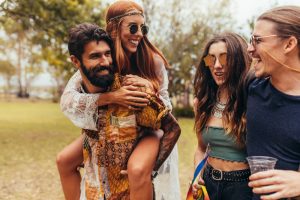 4. Flowy Tops and Pants — You'll want tops and pants that will make you feel comfortable and free. In addition to a flowy top or long, loose pants, you can try shorts in bold designs and linen shirts in pastel colors. If you're going for a bohemian vibe, flowy tops and pants are the way to go. Floral and abstract prints are great choices for these free-flowing festival staples.
5. Sneakers — There are plenty of trendy street-style sneakers for you to wear. While white looks crisp and cool, it may not be the best option for muddy grass at a busy festival. Instead, opt for sneakers that will be easy to wash or clean after the festival. Go for dark colors or bold prints instead.
6. All About Accessories — Not only will accessories help add some flair to your outfit, but if you wear accessories like hats or scarves, they can help protect your hair, head and neck from the sun. When accessorizing for a festival, go all out. Wear bright colors and loud prints. Now is a time to have fun with your look and experiment with different colors, designs and fabrics.
7. Sun-Protective Clothing — When you're out in the sun all day, besides wearing sunscreen and other accessories to protect yourself from the sun's harmful rays, you'll also want to wear clothing that protects you. There are tons of different sun-protective clothing options, many of which you will find when also looking for swimwear. As we mentioned earlier, you don't have to only wear swim trunks in the water. These bold designs work perfectly for your next music festival. If you love sun-protective clothing, you'll also appreciate sustainable men's swimwear that gives back to our planet.
8. Printed Tops — Wear printed tops with patterns and designs you'll love wearing. Think of club outfits for men for more music festival outfit inspiration. Try animal prints or abstract designs. All prints in bold colors are a great look for your festival outfit. Pair your printed top with shorts in a matching print. If you want to mix and match prints, you can do that too. For example, you can wear stripes in one color with polka dots in the same color to help coordinate your outfit yet give it a whimsical look.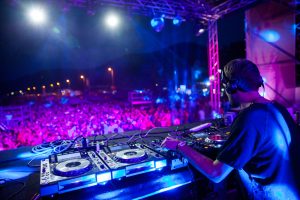 9. Festival Jackets — Layer with festival jackets when it gets windy, or especially if the festival takes place during or through the night. Festival jackets pair well with shorts in vivid colors and prints. A festival jacket should be lightweight. Try half-zip cagoules or denim jackets. For a utilitarian look, try a utility vest.
10. Crossbody and Bum Bags — According to market research, the bum bag (also known as your weird uncle's favorite go-to fanny pack) is in fashion and here to stay. Keep your valuables at the safe and give your look an injection of 90s nostalgia with a bum bag. No one wants to wear a heavy backpack at the festival. You'll be bumping into people, and you won't like it when people bump into your backpack. Wearing a crossbody bag or fanny pack will allow for more freedom and the ability to keep an eye on your stuff at all times.