How to open a YouTube channel for your business
start a youtube channel for your business
YouTube users watch more than 1 billion hours of YouTube videos every day (yes, in units of "billions"), but only 9% of small businesses struggle to open their own YouTube channels. As the usage rate of YouTube continues to soar, there are more and more opportunities for companies preparing to join YouTube.
In this article, we will share how to open a fully optimized YouTube channel for your business and how to create compelling video content to attract existing consumers and potential consumers. YouTube's basic marketing strategy will help you establish a brand image, showcase your products, and allow you to connect with your audience in new and interesting ways.
Teach you how to open a YouTube channel
Learning how to open a YouTube channel for beginners is not as difficult as it seems. Now use this 12-step guide to create your own channel and start growing your business:
Create a YouTube account
Design your channel picture
Fill in personal information
design content
Create a channel trailer
Upload your first YouTube video
Optimize videos for search
Keep the video style consistent
Promote YouTube channel
Interact with your community
Run YouTube ads
Understand the results and optimize your YouTube channel
1. Create a YouTube account
To open a YouTube channel for a business, you first need to log in to the Google account that you want to use to manage the channel.
Run your YouTube channel as a brand, not a personal channel account. This can make it easier for you to scale up anytime, anywhere. You can add other users' Google account login names to your brand account, instead of sharing password information via personal email.
The following is a quick overview that will introduce you step by step how to open a new YouTube channel account for the brand.
1. After logging in to the Google account to be used to manage the brand account, visit YouTube, and then jump to the YouTube channel switcher ;

2. You should see your personal account, any brand accounts currently managed, and the option to create a new channel;
3. After clicking "Create a new channel", enter the screen for creating a new brand account. Choose a channel name for your new brand account and click "Create";
4. Congratulations! You are honored to be the owner of a YouTube channel.
2. Design your channel picture
OK, now that you know how to create a YouTube channel for your business, let us spend some time to design the channel more beautifully.
You can follow these simple steps to make your channel look more professional and make sure your audience knows how to search for your account on the web.
Read also: Ten technological trends that cannot be missed in 2021
Channel avatar
When you create a new YouTube channel from scratch, your channel avatar will be linked to the profile photo of your brand account. You can change your channel avatar, and YouTube will guide you to update your brand account information.
Clicking "Edit" will directly jump to the screen of uploading the channel avatar in the brand account.
We recommend that you save the picture in JPG, BMP, PNG or non-animated GIF format, 800 x 800 pixels. YouTube will display your channel avatar in many places, so you should also make sure that it can be displayed clearly in smaller sizes and in square and circular cropping.
Channel picture
Adding a channel image is a great way to showcase your brand's personality and create a more visually appealing YouTube profile. Although YouTube recommends images of 2560 x 1440 pixels , the uploaded image should be less than 4MB and at least 2048 x 1152 pixels in order to get the best visual effect when viewing your channel on all users' devices.
YouTube will provide you with a preview of each image loaded, showing how it will display on multiple devices. You can also edit the picture.
3. Fill in personal information
To unlock all the customization options of the channel, you need to click the gear icon under the channel image area.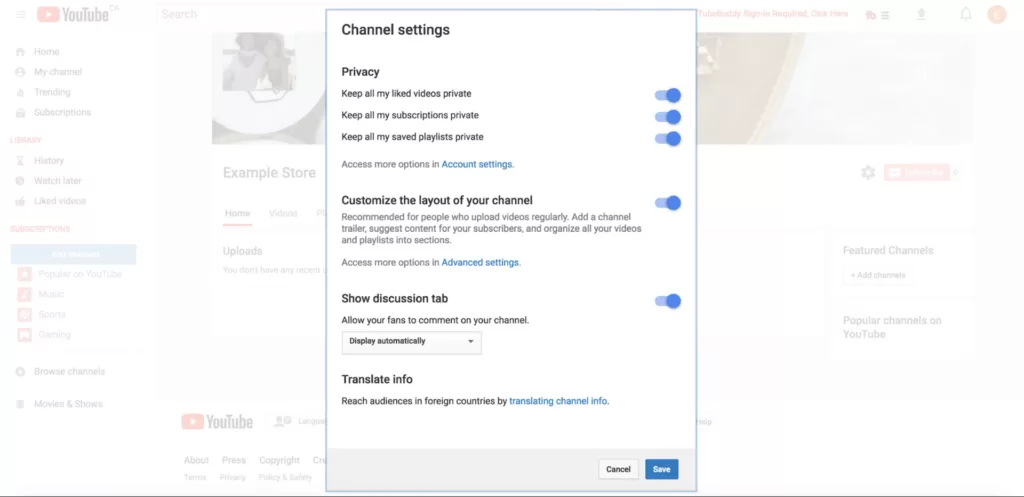 Then you can see a pop-up window called "Channel Settings". Look for the "Customize Channel Layout" option and enable it. Click "Save". Now, you can make a wider range of settings, divided into five tabs: homepage, video, playlist, channel and introduction.
Go to the "Introduction" tab to edit the details of the store.
In the "description" position, you can briefly introduce your store, products, and tasks. Don't forget any core keywords in the store, and make sure to include these keywords in your channel description to help people find you when they search for videos on YouTube.
In addition, please be sure to fill in an email address where you can be contacted. You should also fill in the links to your social media accounts and stores. These links can be set to display on your channel pictures to increase the likelihood of your audience seeing them.

Most links will default to favicon (a small icon displayed at the top of your browser), but the first link will display the link title, so please make full use of these 30 characters, just like 100% Pure, the brand is written here It's the call to action "Buy it now."

n the upper right corner, you will find a unit called "Featured Channels", where you can introduce other YouTube channels. These channels can be owned by your brand or managed by your employees. When you create a YouTube channel from scratch, this unit may be useless, but when you expand your YouTube channel influence, this unit will be useful.