What Glasses Style Makes You Look Younger?
Modern eyewear lets you express yourself. Today's reading glasses feature plenty of luxe shapes and versatile colors. You'll even find bold reading sunglasses and polished blue light reading glasses. If you like to wear these types of eyewear, the following glasses styles are trendsetting and youthful. Try a pair to look younger and make wearing glasses fun again.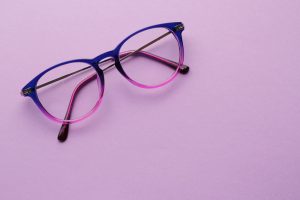 Half-Frame Glasses
These days, there are plenty of durable and stylish frames in-store and online. If you want an ageless look, you need the right design. Some modern reading glasses are stylish but they appear too bulky. Other frames may feel heavy while you're wearing them.
Keep your look light and energized instead with a pair of half-frame glasses. They offer lightweight minimalism so you feel amazing while you read. We like a classic and streamlined octagonal style if you're new to half frames. This shape is sure to flatter your outfits and your face shape. Accent your look with chic frame colors like black or tortoise.
Rectangular frames are just as eye-catching and polished. Frames in gray horn and tortoise horn add just the right amount of pattern and color. Low-profile glasses with cat-eye-inspired angles add a youthful and feminine touch to any outfit. Hues like tan or ivy make a cool statement. Half-frame glasses are so versatile you can wear them at home or at the office.
Warm and Vibrant Hues
When it comes to an ageless style, some people just need the right color. Warm and brightly colored glasses can help to create a youthful appearance. You'll also help to brighten the look of your eyes and skin.
Try swapping out colors like gray and cobalt blue for hues like orange or honey tortoise. Other gorgeous tones for reading glasses include blush and amber. If you're searching for something ultra-feminine, try delicate cat-eye glasses in a color such as rust or pink. A subtle ombre design will make your frames even more eye-catching.
Pair your favorite glasses with brightening makeup to highlight and accent the cheeks and eye area. Peach and golden shades can help to add a fresh vibe to your frames. Or wear light, neutral hues to help showcase the colors of your glasses.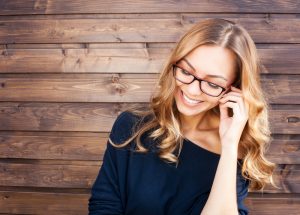 Patterned Frames
Patterns are another fun and simple way to make you look and feel young again. The best way to find the right style for you is to choose one to match your glasses shape. We also think your frames should fit your personality. Reading glasses and blue light reading glasses look bold and daring when they're in a leopard animal print. Try blush leopard or blue leopard for a feminine twist on a classic pattern.
We like abstract animal print because it's multi-colored and goes with just about anything. Wear this bold and dynamic look by the pool or at the computer. The modern quartz pattern is an alternative that makes color blocking more interesting, especially on a stylish pair of glasses. Pink quartz is wear-everywhere, but you can also achieve a flattering look with florals.
Some frames have natural wood temples, offering a unique and environmentally friendly pair of glasses. You can also find temples in various interesting patterns to match the color of your favorite frame. If you like tortoise patterns, there are reading glasses frames that transition down to a beautiful solid shade. Choose a hue like green or blue for the perfect combination of timeless style and a relaxed, calm feel.
Frames with a Retro Look
Today's vintage-style glasses are anything but dated. They add a fresh and playful charm to your fashion. If you want to make a statement, shop for a pair of readers or blue light reading glasses in classic wire frames. A timeless round shape will take you back to the good old days. Update the style with a beautiful and vibrant color. Blue and green frames are fun and elevated, especially when they're paired with patterned temple arms.
Wear a retro round frame with a crystal finish for a chic aesthetic. Warm shades like orange and red will add to the vintage vibe. Another fitting style is the cat-eye silhouette. Combine this shape with gold accents for a look that is equal parts luxe and feminine. Warm jewel tones or a tortoise pattern will make your readers even more flattering and worthy of compliments.
If you want your retro glasses to look youthful at the same time, shop for rounded cat-eye frames. This style adds subtle playfulness to a classic, timeless design. Iridescent frames in hues like clear and smoke are vibrant and inspiring. An ombre fade in a color like brown looks like an artful painting.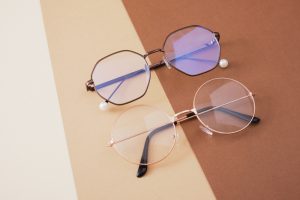 Looking Younger with Inspiring Eyewear
Everyone wants to look as youthful and vibrant as they feel. A stylish pair of men's or women's glasses will help to accentuate your fashion and flatter your face shape. Whether you need low-strength reading glasses or you require strength like +2.75 reading glasses, you're in luck. Today's innovative styles mean you're sure to find something you love.
Start by looking at some frames that flatter your face shape. Then, think about the colors and patterns you like best. Sometimes, peering at the clothes in your closet can help you narrow your choices. Soon, you'll choose the designs that make you feel younger and more excited about reading your favorite book.
The right pair of reading glasses can make it easier to enjoy everything from novels to magazines. Blue light readers will help you see your tablet or smartphone. With so many affordable styles, you may find more than one pair to create the right look. Be creative and enjoy everything that today's eyewear has to offer!