The Diverse Nature Of Gothic Fashion
Gothic fashion is one of the most diverse yet unexplored trends in the world. People often assume Gothic style as wearing signature dark clothes (black to be specific), dark, brooding makeup, and spooky jewellery. This cannot be farther from the truth. A gothic blouse doesn't need to be black with scary images!
The style that originated during the Victorian cult of mourning has gone through many evolutions. The first generation of the Gothic movement started in the UK around the late 1970s.
Gothic style is nothing but an expression of alternative romanticism, morose and taboo elements in our society.
Sometimes it is referred to as "positive punk."
A world with diversity
Apart from the traditional goth style, which was inspired by goth bands like Rosetta Stone and The Shroud, there are many varieties of contemporary goth fashion.
The romantic goth
Earlier, we have mentioned that gothic culture is heavily inspired by romanticism. Romantic goth clothing captures the love for Victorian literature.
This style includes beautiful flowy gothic blouses, lace, or velvet gothic capes with splashes of colour (yes, it is not about wearing black!). Purple, orange, red are some of the most commonly used colours for this style.
The pastel goth
We tend to associate darker colours with gothic fashion. But this new trend of pastel goth is defined by using edgy goth fashion elements with softer pastel colours. For people who want to try goth fashion for the first time, you can opt for this variation.
Choose a silver pleated skirt and wear a black top with a gothic women's jacket. Team it up with boots and a choker. You can also wear a cute hairband.
The Hippie Goth
A gothic style that is more influenced by cultural roots and religions is known as the hippie gothic style. This variation of goth has a lot of spiritual influence with imageries and symbols. Colours are mostly dark or neutral with bold patterns.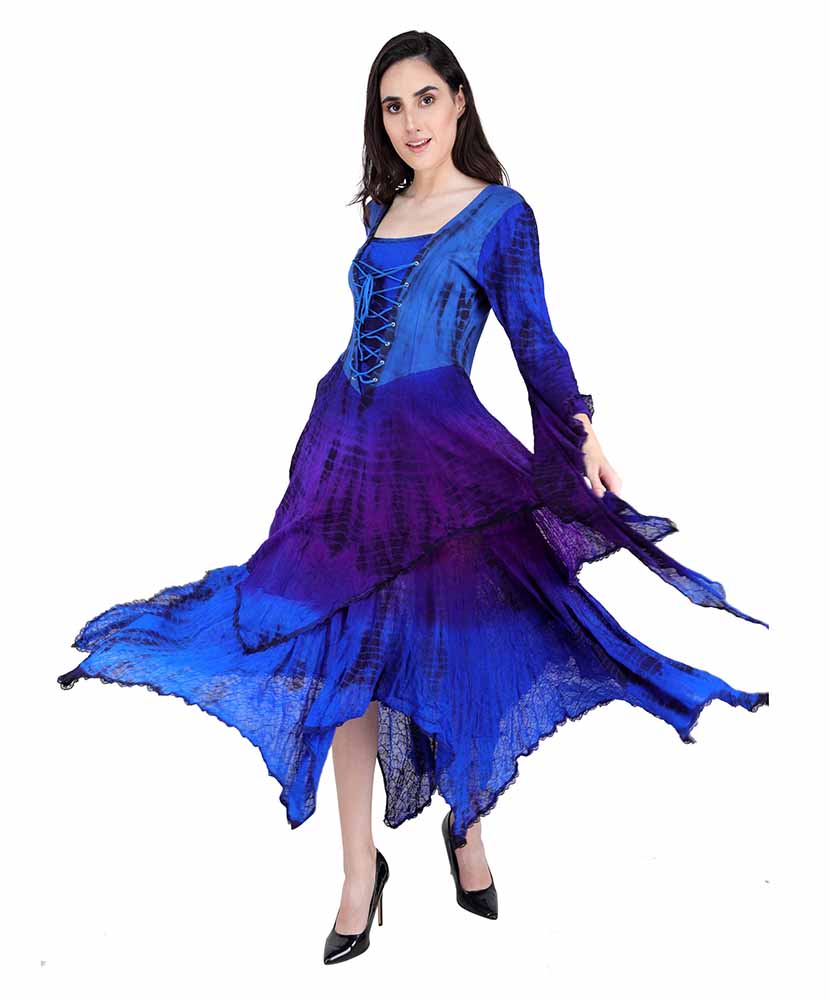 The Vampire Goth
Going towards a more dark route, vampire goth aims to mirror vampire features in their style. But that doesn't mean these people will only wear black and red colour. They include elements like pointed nails, tattoos, piercings, and the signature vampire teeth in their look.
The Casual Gothic style
You have seen many influencers try out this variant of goth look. This is more of a college girl look inspired by gothic fashion. The looks are mainly laid-back with chic elements to add a dark, sexy vibe.
To achieve this look, try a net skirt and team it up with a fitted crop top. You can mix and match colours like black and maroon. Complete the look with chokers and bracelets. To add some extra glam, put on a hat.
You can also swap the skirt with denim shorts and a high ponytail. Don't forget a bold liner and red lipstick!
The Cybergoth
This is often regarded as the edgiest of gothic fashion. Cybergoth needs you to incorporate neon dreads, gas masks, goggles, etc. They are a futuristic version of the goth style- often regarded as a counterpart of traditional goth fashion.
Tribal Goth style
Tribal goth is inspired by belly dancers. This type of gothic style includes belly dancing clothes, like skirts with traditional gothic elements. Tribal shirts with wood-decorated pants, pendants, sandals are some tribal gothic fashion staples. People usually wear these with long, dreaded hair and smoky makeup.
Gothic Lolita style
Lolita fashion gained immense popularity in Japan through Mana, a Japanese musician. This style distinctive captures the sweetness of Lolita fashion aesthetic with elements of goth. The colours are not limited to black; in fact, gothic Lolita embraces 'feminine' colours like pink and pastel shades.
If you are looking to incorporate gothic fashion in your wardrobe, you need to find online stores that specialise in goth and alternative fashion clothing. Mainstream brands sell dark coloured clothes in the name of goth fashion. But now you know Gothic style is so much more than brooding makeup. Stores like Jordash Clothing have an extensive range of gothic fashionwear, from t-shirts to dresses, jackets, and even gothic capes.