12 Decorating Gift Ideas
Gift giving is an experience that can be equal parts joyful and stressful. It's wonderful to see your loved one's eyes light up when they unwrap the perfect gift – but first, you have to get through the gift-giver's gauntlet of choosing the perfect present. And if you're prone to second-guessing yourself, the whole process can be nerve-wracking. There are literally thousands of bargain balloons available at 40% off, $0.30, and $0.90 deals.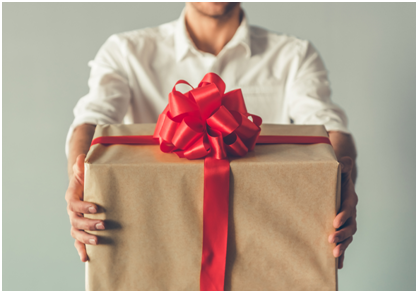 Source: George Rudy/Shutterstock
Fortunately, the world of home decor offers tons of ideas for delightful gifts spanning the full spectrum of interests and aesthetics. You're sure to find something that suits your loved one if you know where to look. And when you see that your gift recipient has added those custom wall decals you got them to their home decor, it's hard to describe the satisfaction!
Time to get inspired for your next gift-giving occasion! Check out these 12 awesome home decor gift ideas that will help you fill your loved ones' homes with joy through the power of a well-chosen present.
1. Anniversary Star Charts
Several gift creators online now offer custom star maps that show the exact position of the stars at an important moment, such as an anniversary or birth. It's a cute and pleasantly concrete way of celebrating the relationships and people who matter the most. And if your loved one is into astrology, we almost have to ask why you haven't bought this already.
2. Custom Wall Decals
Got a favorite photo of the gift recipient that you'd like to immortalize? A custom wall decal is the perfect gift. It's easy to get a high-quality custom vinyl wall decal created with any design you desire, so choose a picture that you think would make a great decoration and order it as a custom decal. Choose a high-quality manufacturer who creates wall safe decals to ensure that the decal won't damage their wall.
3. Audio Waveform Prints
If you have a music lover in your life, a framed audio waveform print could be the perfect choice to celebrate the music that changed their life. Any piece of recorded sound can be visually represented by a unique audio waveform, and these waveforms can be transferred to prints and framed. For a true double-whammy package, try gifting a waveform print with a high-quality vinyl reissue of their favorite album by the artist.
4. Table Lamps
A table lamp is the perfect fusion of the aesthetic and the practical, and it's easy to find a space for one in almost any home. What's really great about table lamps is that they come in all shapes and sizes, meaning that you'll be able to find one that suits almost any decor style. From sleek mid-century modern to ornate baroque, table lamps have an incredible stylistic palette to work with, which makes them great if you really know the recipient's taste.
5. Coffee Table Books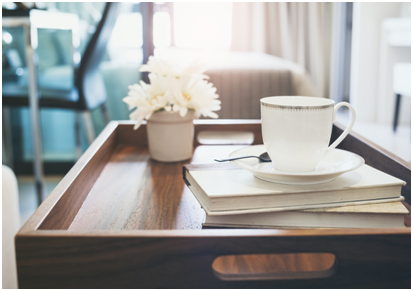 Source: VTT Studio/Shutterstock
Beautiful coffee table books are a great addition to any home, and they can last for many decades when cared for properly. Coffee table books are available on a massive variety of topics, from Earth's geography to famous movies, but their common theme is always impressive illustrations that make them perfect to leaf through on a Sunday afternoon or any time when someone has a few minutes to kill.
6. Aromatherapy Diffuser
Scent is an important component of creating a cozy home, and an aromatherapy diffuser combines comforting scents with good looks for a true home decor MVP. Several different types of diffusers are available, from traditional vaporizers to reed-based diffusers that provide a subtler and longer-lasting scent. Grab a pack of the recipient's favorite scents to complete the gift.
7. Candles
While we're talking scents, there's another classic you shouldn't forget: candles! A high-quality soy candle is a great home decor addition that provides pleasant lighting and an enjoyable scent all at once. Furthermore, it's easy to support small artisan candle makers by purchasing their products through sites like Etsy, although nothing beats going to a local farmers or craft market and getting to smell each amazing scent for yourself.
8. Flatware Sets
A flatware set is another gift that's as attractive as it is pragmatic. These are best for housewarming gifts, wedding gifts and other giving occasions where the recipient may not already have a fully stocked kitchen. Try to find a flatware set that comes with a storage container so that the recipient will have a convenient place to store them if their kitchen drawers don't have room.
9. Throw Blankets
Whether they're snuggling up to watch Netflix or using the blanket as an eye-catching decorative piece, your loved one will be delighted with how a throw blanket fits right into almost any lifestyle. Many online vendors also now offer customizable throw blankets that can be printed with any design you like, which makes it fully possible to have your loved one snuggling up under an image of your grinning mug.
10. Peel and Stick Wallpaper
Many people love wallpaper, but almost nobody loves actually applying wallpaper. But with the new generation of peel and stick wallpaper that's now available, anybody can put up great-looking wallpaper with a relatively small amount of work. From powerful sports themes to delightful kid-friendly designs, peel and stick wallpaper is available in such an incredible array of designs now that you should be able to find options for just about anyone on your list.
11. Glassware
For lots of people, there are few better things in life than kicking back with a good beverage and good company, and a tasteful glassware set can help create these moments. Whether it's wine glasses, rocks glasses, highballs or something else, a glassware set is a truly classy gift – and a glassware set that comes with a bottle of something special is an even better one.
12. Doormat
Finally, we have a genuinely underrated element of home decorating: the doormat. Humble as it may be, a doormat is really important for providing an introduction to a home, as well as for keeping things clean. So, if you're confident that you know the atmosphere your gift recipient wants for their dwelling, the perfect doormat can actually be a tremendously meaningful gift that makes a lasting impact on someone's home.