10 Ways to Show Your Friends You're Thinking of Them
Time can get the best of all of us sometimes, and before we know it, it's been weeks or months since our friends have seen or heard from us. It's hard to stay in touch during the hustle and bustle of everyday life. But even if they don't hear from you all the time, there are still things you can do to show your friend you're there for them. Here are some realistic and practical ways you can show your friends you're thinking of them without breaking stride in your already overwhelming life.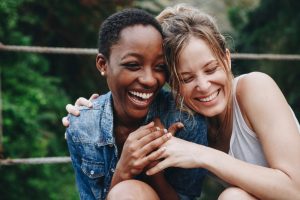 1. Listen
Sometimes all a person needs is for someone to listen. Letting a friend vent without judgment can be a gift greater than gold when that friend is feeling down or overwhelmed. Be an active listener: Pay attention to what they say, and make sure they know you're paying attention. Make eye contact, respond to questions, ask your own at appropriate times, and when they're finished, offer your support, opinion, or advice (as long as it's welcomed).
2. Send a Cute Card Via Snail Mail
No one gets anything in their mailbox anymore except bills and ads. How great would it be for your friends to rifle through today's non-virtual mail only to find a colorful, quirky card from you? You could even add a small but thoughtful gift now and then, like fun women's socks.
3. Share Empowering Content
These days, we're all about sharing things we find on social media — news, political ads, funny cat videos, etc. Why not start sending your friends empowering and inspiring videos, articles, photos, and so on? Brighten their day by sharing something that makes them feel good about themselves and appreciated by you.
4. Feed Their Belly… and Soul
If you know your friend has had a hard day, you also know there's a good chance they won't feel like cooking or going out. Instead of letting your friend get by on a bag of pretzels for the night, swing by their place with a homemade meal or takeout from their favorite restaurant. Or bake a batch of cookies or brownies to share. Set out some dishes and join them for a meal or snack that will nourish you both.
5. Let Your Friends Know What You Love About Them
Sometimes, a little appreciation and recognition go a long way. Let your friends know what you appreciate about them. Point out things they say, actions they take, or values they demonstrate that you admire. Reminding someone they're a good person and a good friend doesn't just make them feel good about themselves; it makes them feel good about you, too.
6. Send Them Little Things That Remind You of Them
We all love to be known by the people we care about. And often throughout the day, we'll see things on social media or while out and about that remind us of particular friends. When that happens on social media, share the item with them, or consider sending them curated gift boxes containing multiple items chosen just for them. Add a little note like "This reminded me of you."
7. Pop by on a Foul-Weather Day
Of course, you don't want to put yourself in any danger to show another person you care. But if you can plan ahead safely, go over to your friend's place before a downpour or heavy snow so you can spend time together instead of being stuck at home solo. Enjoying some hot cocoa or hard seltzer with a friend on a gray day makes it not so gray anymore for either of you. You can even bring a funny gift to get you both LOL-ing.
8. Get Them Out of the House
As busy and exhausted as we may feel, we often spend a lot of time doing nothing — like watching TV or scrolling our phones — in an effort to recuperate. But another way to refresh and rejuvenate is by engaging the mind and body in something new and enjoyable. Get up and move around, socialize, see new places, and try new things. Make a date with your friend to take a class or workshop, check out a new restaurant, or go on a hike you've always wanted to try.
9. Give Them First Dibs on the Last Bite
Whether it's the last slice of pizza, the last cookie in the package, the last mug of beer in the pitcher after last call — whatever it is — if there's only one left, let your friend have it. You're not going to miss much by having one less slice, bite, swig, etc. You'll get way more out of this small action that shows your friend you care.
10. Embrace Your Differences
Everyone wants to be liked, but most people are afraid of rejection. It's not uncommon for us to cover up the things that make us different. But as we've all heard countless times, it's those very things that make us special. Make sure your friends know that you accept them for who they are — quirks, non-conformities, and all.
If your friend is part of a social group or cause, purchase their merchandise to show your support, attend a march or rally with them, or donate to a relevant organization in their name. Or maybe they just have a particular hobby or passion that doesn't interest any of their friends. Whatever it is, show you care by inviting them to join you in that activity. For example, if they enjoy gardening and growing things, bring over a gift of seed bombs and help them get planting.
Show Your Friends You Care
There are many ways to show your friends you're thinking of them without breaking the bank or taking up too much of your own time. Remember, it's the little things that count the most.