A Guy's Guide: How To Dress Smart Casual for Fall
The change of season means a change in wardrobe, and smart casual is the way to go this fall. This look takes the best of business attire and incorporates it with cool, casual comfort. You can take your everyday fall wardrobe up a notch with some key pieces in your arsenal.
Classy Long Sleeves
A solid long-sleeved shirt is the foundation of any successful smart casual outfit. Button-down collared shirts will keep you looking sharp, while a long-sleeved henley will lend a more relaxed vibe to your look.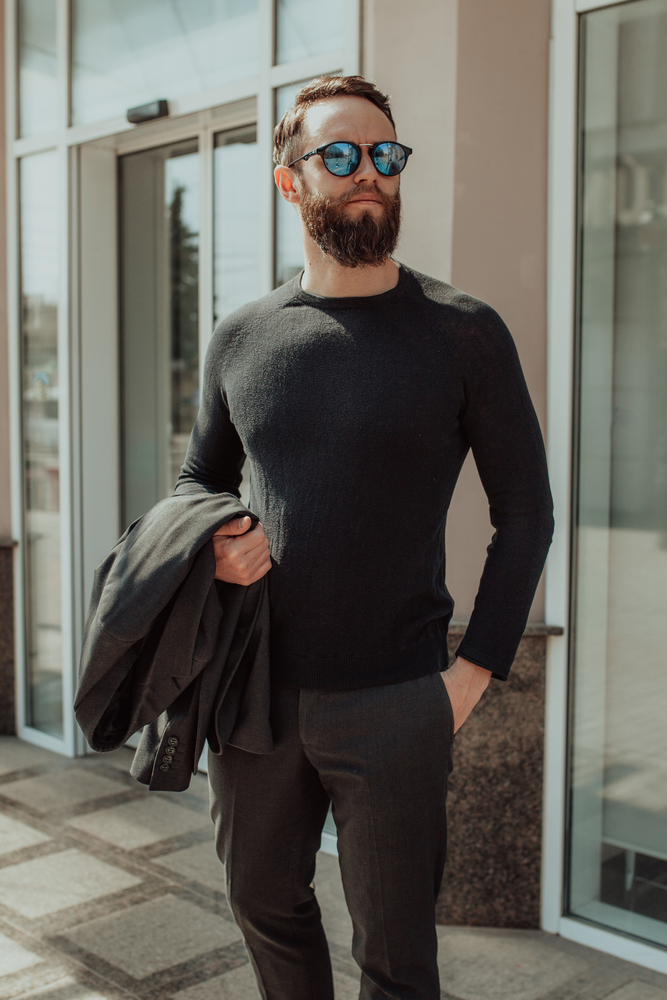 Source: san4ezz/Shutterstock.com
Whichever you choose, a good fit is key to achieving a smart casual look. Look for a shirt that's slim-fitting but not too tight. The bottom should hit right at the hip, and the sleeves should stop at or just above the wrist. As for colors, darker hues such as navy blue and charcoal gray are classic staples, but don't be afraid to add some texture with a plaid shirt.
Tees Done Right
Some fall days may be warm enough to don a t-shirt. If the weather doesn't call for a long-sleeve, don't be afraid to break out a plain tee. While short-sleeved t-shirts tend to read more casual, you can still achieve a more formal smart casual look with the right approach.
Start by opting for a t-shirt with a thicker, higher-quality fabric in a slim fit. A pocket t-shirt can also add a subtle touch of sophistication. Avoid graphic tees to keep from looking too casual, and stick to solid colors like gray or black to keep your look refined.
Pleated Trousers
You'll need a great pair of trousers to nail the smart casual look. Pleated styles offer more legroom than other options, adding comfort without sacrificing that stylish edge.
Look for a pair in a mid-tone shade such as olive green, and make sure the waistband fits snugly but not too tight. A wider cuff adds a sophisticated touch and creates an effortless break between the leg and the shoe.
Dark Denim
Who said jeans can't be smart? Dark denim is a great way to add dimension and depth to your smart casual look. Stick with indigo washes in a slim-fit cut for maximum style points.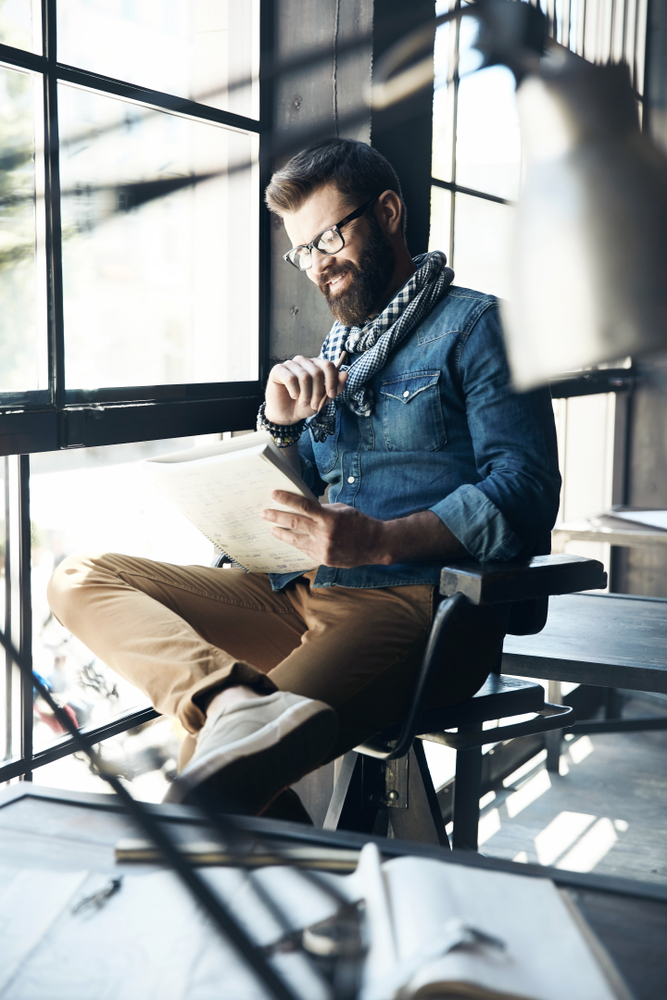 Source: Jaroslav Monchak/Shutterstock.com
The darker the shade, the more polished you'll appear. However, don't get carried away with details like whiskering or distressing. The key is to keep your look sleek and simple.
Layered Sweaters
Fall fashion is all about layering. However, bulky sweaters and excessive layers can ruin the simplicity of the smart casual vibe. A better option is a lighter layering piece like a cotton cardigan or a cashmere v-neck sweater.
Look for a sweater in a deep color like burgundy or navy, and pair it with a collared shirt underneath. The contrast between the layers will give your look an interesting depth while maintaining that neat appearance you're going for.
Crisp Outerwear
No fall wardrobe is complete without a quality outer layer to fend off the chill. Choose a sophisticated overcoat in a neutral shade, such as navy or gray, and you'll be ready for anything the season throws your way.
Cuts such as the double-breasted peacoat or single-breasted trench are great options. Just make sure the fit is snug but not too tight. A crisp wool blazer is also an excellent choice if you're looking for something less structured. On warmer days, you could also opt for a sleek blazer or vest paired with a minimalist long-sleeved crew neck.
Leather Footwear
The right pair of shoes can elevate any look to the next level. When it comes to smart casual, leather footwear is your best bet.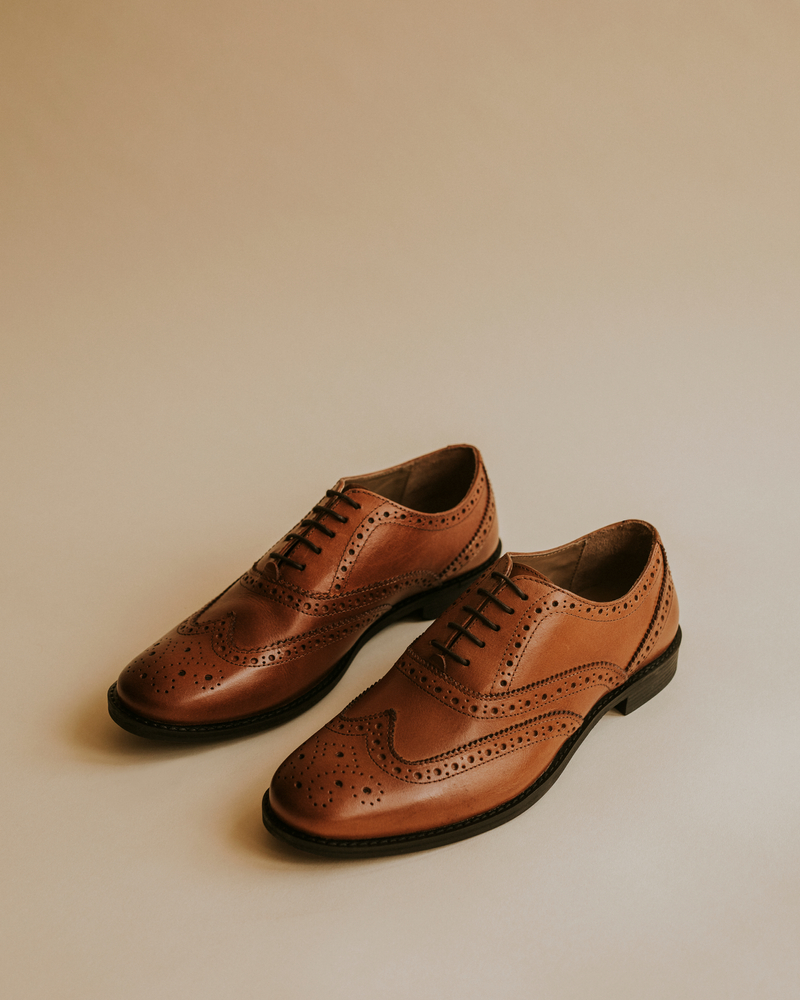 Source:Rawpixel.com/Shutterstock.com
Derby or Oxford-style shoes will add an air of sophistication. At the same time, suede chukka boots offer a more rugged aesthetic that can bring your look to new casual heights. Whether you go for a classic black or brown color, polish them up, and they'll be good to go.
Clean White Sneakers
Just as classier footwear can elevate an otherwise casual look, the right pair of sneakers can make a statement as part of an otherwise more formal outfit.
White sneakers are a solid choice for your smart casual wardrobe this fall. Look for a pair with smooth lines, leather uppers and minimal detailing — nothing too bulky or overly branded. The trick to achieving smart casual balance is to pair these sneakers with something more sophisticated, such as pleated trousers and a collared shirt.
Simple Accessories
The devil is in the details, and this holds true for your smart casual look. When it comes to accessories, opt for classic pieces that won't overpower the rest of your outfit. A simple leather belt, a tasteful watch or a pocket square can add just the right amount of subtle flair.
Remember, less is more. You don't need every accessory in the book to pull off a great smart casual look. One or two pieces at a time should be plenty.
The Perfect Beanie
When the cold really sets in, a beanie hat can be just the thing to wrap up your smart casual look. A simple beanie offers an effortless way to tone down a more formal outfit and add a touch of casual cool.
Choose a minimalist style in neutral colors such as gray or black, and pair it with a structured overcoat for maximum warmth and a seamlessly understated vibe.
Putting It All Together
Smart casual is all about getting the balance between effortless and polished just right. With these tips, you can take your everyday fall wardrobe up a notch and look great. The possibilities for smart casual fashion are virtually endless when you invest in quality pieces and use thoughtful layering to your advantage. So go ahead and give it a try this season. You'll be surprised at the difference well-curated clothing items can make in your confidence and style.