How Would You Choose the Best Plumber Service?
You can face some plumbing issue in your house, such as leaking taps, leakages in the pipeline, clogged sewage and burst pipes. In this case, you need to call the best plumber service. A person who fits and repairs the pipes, fittings, and other apparatus of water supply, sanitation, or heating systems. They also install plumbing fixtures such as bathtubs, sinks, and toilets, and appliances, including dishwashers and washing machines. These are skilled tradesmen who have the right expertise and experience to resolve plumbing issues. But how would you choose the best plumber? There are many such services available in your locality, and you will get confused while you select the best one. Before you hire a plumber service, you need to check their credentials, and you can check their license, insurance, and experience level in this regard.
Tips for Choosing the Best Plumber Service:
1. Professional Approach
Professionalism is essential for a plumber's job. They should maintain a proper dress code, and they should communicate with their customers in a professional way. They can detect the problems with their advanced tools, and they will explain the same before they fix the issue. They should include their price details and warranty terms in their agreement, and they must generate their invoice in a systemized way. Most of the professional plumbing services have their own mobile app, and you can use their website or app to book their services. They can send the invoice from their app, and they will maintain 100% transparency in their transactions.
2. Ask for Quotations
You need to hire a plumber within your budget, and you can ask for a quote from different plumber services. You can compare their prices to choose an affordable one. When you evaluate their estimates, you need to investigate the factors involved because they can add some hidden charges at the end of the project. They can buy raw materials from the dealers at a lower cost and sell them off at a higher price. So, you can take a list of materials required for your project and buy them online to save your cost
3. Do They Have Insurance?
You must check the insurance before you hire a plumber. If anything goes wrong during their fixing and repairing work, then you need to take their liability and cover the damages caused by the plumbers. But if you hire a licensed and insured plumbing service, then you do not need to take such liability, and the insurance company will cover the damages caused by your plumber. So, you can keep your property safe by paying a few extra for such insurance.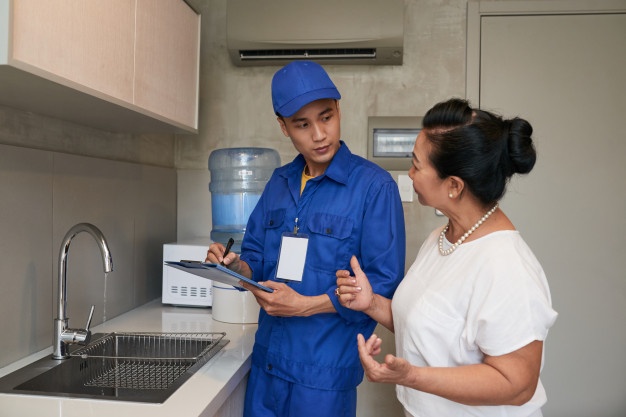 4. Timeline for Completion of Work
Most of the plumbers, do not complete their project within a timeline, and they can extend their time and take a week for a small fixing work. You cannot stay in your home with clogged sewage lines or leak pipes. So, you need to hire an emergency plumbing service in this regard. Apart from that, you must ask the plumber about the time required for your project, and if they need an unnecessary extension, then you can claim a refund. Make sure they must include these terms in their agreement.
5. Seek Recommendations
It is better to take some recommendation from your friends and relatives to choose a plumber. If you are new in this city, then you can search for such plumbers online and check their reviews. You can also ask for some references from your plumber and talk to their previous clients to choose the best one.
6. Emergency Services
You can face some emergency issue anytime, and you need to call a plumber to fix the same. It can be a weekend or during midnight; you should choose a plumber who can offer 24×7 emergency services. You need to check their customer care in this regard, and you can call them few times to check their after-sales services.
Conclusion
These are some of the key questions that you need to ask a plumber before availing of their services. A seamless functioning plumbing system is an integral part of house maintenance, and you must not ignore any sign of damage to it. Hiring the best plumber services will always be good.